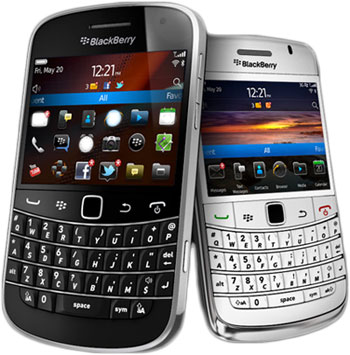 Manufacturer
Research In Motion (RIM)
Compatible networks
GSM 850/900/1800/1900
GPRS/EDGE/UMTS
CDMA/1xEV-DO
iDEN
Dimensions
50 × 106.7 × 14.5 mm
Weight
87.9 to 155 g depending on model
Operating system
BlackBerry OS
CPU
ARM XScale
Memory
64 MB – 768 MB reserved application memory, 4 GB media memory on Storm models, expandable to 32 GB via microSD
Display
640 × 480 pixels
(Bold 9900/Bold 9930)
480 × 360 pixels
(Curve 8900/Tour 9630/Bold 9650/Bold 9700/Bold 9780)
360 × 480 pixels (Storm 9500/Torch 9800 )
480 × 320 pixels (Bold 9000)
360 × 400 pixels (Pearl 3G)
320 × 240 pixels (8300/8500/8700/8800/Curve 3G)
240 × 260 pixels
(7100/8100 series)
240 × 160 pixels (7200/7300 series)
Ringtones & notifications
Polyphonic, MP3, MIDI
Connectivity
microSD, USB, Bluetooth, Wi-Fi, GPS, NFC
BlackBerry is a line of mobile e-mail and smartphone devices developed and designed by Research In Motion (RIM) since 1999.
BlackBerry phones function as a personal digital assistant and portable media player. They are primarily known for their ability to send and receive (push) Internet e-mail wherever mobile network service coverage is present, or through Wi-Fi connectivity. They support a large array of instant messaging features, including BlackBerry Messenger.
BlackBerry commands a 14.80% share of worldwide smartphone sales, making it the fifth most popular device manufacturer after Nokia, Samsung, LG, and Apple. The consumer BlackBerry Internet Service is available in 91 countries worldwide on over 500 mobile service operators using various mobile technologies.
Modern GSM-based BlackBerry handhelds incorporate an ARM 7, 9 or ARM 11 processor, while older BlackBerry 950 and 957 handhelds used Intel 80386 processors. The latest GSM BlackBerry models (9100, 9300 and 9700 series) have an Intel PXA930 624 MHz processor, 256 MB (or 4 GB in the Torch 9800) flash memory and 256 MB SDRAM. CDMA BlackBerry smartphones are based on Qualcomm MSM6x00 chipsets which also include the ARM 9-based processor and GSM 900/1800 roaming (as the case with the 8830 and 9500) and include up to 256MB flash memory. The CDMA Bold 9650 is the first to have 512MB flash memory for applications. All BlackBerrys after OS 5 support up to 32 GB microSD cards.
Models
Early pager models: 850, 857, 950, 957
Monochrome Java-based series: 5000, 6000
First color series: 7200, 7500, 7700
First SureType phone series: 7100
Modern BlackBerry series (2006–2008): 8000–8830 including: BlackBerry 8800, BlackBerry Pearl, BlackBerry Pearl Flip and BlackBerry Curve 8300
Latest BlackBerry models (2008–2009): 8900+ GPS Wi-Fi series: BlackBerry Bold (9000), BlackBerry Curve 8900, BlackBerry Tour (9630), BlackBerry Storm (9500/9530), BlackBerry Curve 8520/8530
BlackBerry Storm 2 (9520/9550) (2009): BlackBerry Storm2
BlackBerry Bold series (2009): BlackBerry Bold 9700
BlackBerry Bold series (2010): BlackBerry Bold 9650
BlackBerry Bold series (2010): BlackBerry Bold 9780
BlackBerry Bold series (2011): BlackBerry Bold 9900/9930
BlackBerry Pearl series (2010): BlackBerry Pearl 3G 9100/9105
BlackBerry Torch series (2010): BlackBerry Torch 9800
BlackBerry Torch series (2011): BlackBerry Torch 9810
BlackBerry Torch series (2011): BlackBerry Torch 9850/9860
BlackBerry Curve series (2010): BlackBerry 9300
BlackBerry Style 9670 (2010)