QuickTime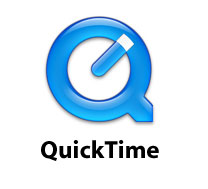 QuickTime is a multimedia framework developed by Apple Computer Inc. that consists of a QuickTime player, the QuickTime framework which provides a common set of APIs for encoding and decoding audio and video and the QuickTime movie file format, .MOV. The MP4 multimedia container is also based on QuickTime technology. The latest version of QuickTime is QuickTime 7, which brought about an H.264 encoder (baseline profile, 1 B-frame support) and decoder which supports Baseline, Extended and most of the main profile but not High Profile features.

QuickTime 7 also brought multi-channel audio support for the MOV container.

The QT video (and audio) container format is like AVI or ASF, because it doesn't define the actual compression technology the video has to use, but just defines the video structure instead.

Despite this, term QuickTime is normally used to refer to Apple's own (or licensed, in both cases mostly meant for streaming) video encoding technology that used to produce pretty bad video quality -- something that could be compared to RealVideo format.

Recently (since 2002), Apple has started using MPEG-4 video encoding on its QT streams, producing much better, if not excellent, video quality. Reason for this has been the huge demand from Hollywood to come up with an universal standard -- such as MPEG-4 -- that would produce good quality video for broadband use.

Quicktime is one of the oldest containers still in use, QuickTime is used by Apple's QuickTime encoding and playback software. It uses an extension of .MOV. It's also very closely related to the MP4 container, which was originally based on this container. Video streams found in QuickTime containers are generally MPEG-4 AVC, with audio typically being AAC.

MP4 was based on Apples MOV (Quicktime) container, which they were already using for MPEG-4 content. Rather than using a different type of file for elementary (separate video and audio) streams, MOV and MP4 use the same container regardless of how many or what type of streams are stored in it. Apple's iTunes online music store made audio only MP4 files a common site for consumers. Although not all portable media players can read them, Apple's M4A extension (for audio only MP4 files) has become synonymous with audio.
Related articles:
How to Convert VOB Video to QuickTime MOV Format?
How to Convert WMV Files to MOV QuickTime Format?
How to Convert FLV to QuickTime Mac?
How to Convert DVD to Quicktime Mac