Sansa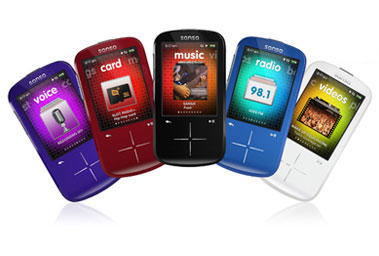 TheSanDisk Sansa is a line of 2 to 16 gigabyte flash memory-based digital audio players and portable media players produced by SanDisk.
Current models
Slot Player
slotRadio Bundle
slotRadio player
slotMusic player
Sansa Fuze+
The Sansa Fuze+, announced on August 31, 2010 in capacities of 4 GB (US$79), 8 GB(US$89) & 16 GB (US$119), is a portable media player with a 2.4-inch color display (QVGA) and touch capability. It also features an FM radio with FM recording, a voice recorder, and 24 hours of audio playback from a single charge. It supports the following audio formats: MP3, WMA, Secure WMA, Ogg Vorbis, FLAC, AAC, Audible, Podcasts. For video it supports MPEG-4, H.264, and WMV. Storage is expandable via a microSDHC slot, and it can be used to play slotMusic and slotRadio cards.
Sansa Clip+
On August 31, 2009, SanDisk released a redesign of the Sansa Clip called the Sansa Clip+, cosmetically similar to the Clip and maintaining its basic design, audio hardware, compatibility, and 4-line OLED screen, but with a few significant differences. The case has been redesigned to look more square (including the navigation pad, which is also no longer backlit) and is constructed of higher-quality plastic, the clip is no longer removable, and the player now supports folder browsing, gapless playback and ReplayGain support. A microSD card slot has been added, allowing the memory of the device to be expanded up to an additional 32GB. The Clip+ also has added features when playing slotMusic and slotRadio. To make room for the microSD slot there have been some changes from the old Clip, including moving the volume switch to the left side of the device and changing the power/hold switch to a simple power button. The new power button seems to be vulnerable to a mechanical problem that causes it to fail to respond to any input. Hold mode is now activated by holding the "Home" button on the device.
There are 2GB (black), 4GB (black, red, blue, white or indigo) and 8GB (black) models. The Clip+ replaces the discontinued Sansa Clip.
Discontinued models
Sansa Fuze
Sansa Clip
Sansa Shaker
Sansa Express
c200 series
e200 series
Sansa Connect
Sansa View
c100 series
m200 series
e100 series
Sansa SDMX1
Sansa TakeTV