How to Convert QuickTime MOV to FLV Format?
MOV files are very common to see nowadays as Apple's digital devices getting more and more popular. Sometimes you may get several interesting MOV files and want to share them with the others through Internet. What do you do usually in that situation? Well as we all know, FLV format is the best choice in most cases when we want to upload video files to Internet because the file size of FLV is very small and the upload speed of FLV is very fast. Therefore when we want to upload MOV files to video sharing websites, we can choose to convert MOV files to FLV format. It is actually very easy as long as we have a QuickTime MOV to FLV Converter. In this guide Total Video Converter is selected to help us find the easiest way to convert QuickTime MOV to FLV format. Click here to learn more about Total Video Converter.

Step 1: Click button "Add Video" to add the QuickTime MOV video files you want to convert.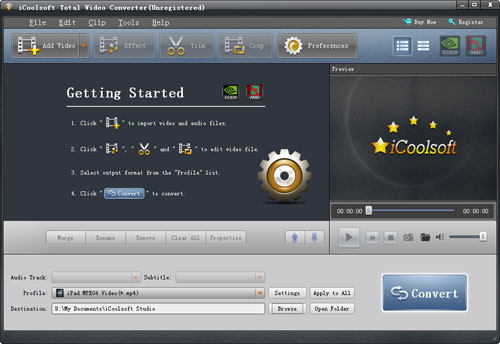 Tip:
You can preview the MOV file in the preview pane and take snapshot of the scenes you like the most. Click button "camera icon" and the picture will be saved as default format in default folder. Click button "open snapshot folder" then you can open the folder to find the pictures.
Step 2: Specify the "Profile" as FLV, and set the output destination.
Tip:
If you need, you can click button "Settings" to set the output parameters.
Step 3: Select a video and use "Effect", "Trim", or "Crop" button on the tool bar to edit it as you like.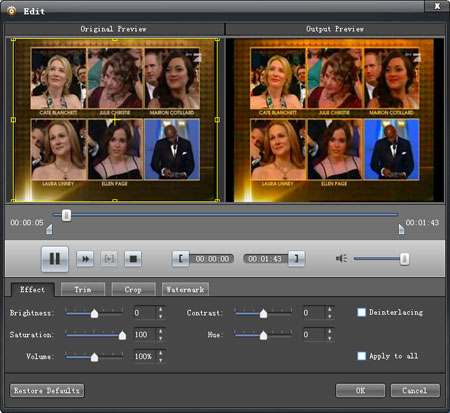 Step 4: Click button "Convert" to start converting QuickTime MOV format to FLV format. It will show you the converting progress window and you can check "Shut down computer when conversion completed" or "Open output folder when conversion completed" there.