SonyColorful in your life, Sony make it believe
Sony Camcorder Converter
Introduction

Sony has camcorders in virtually every category: ultracompact, high-end, mid-range, pro, and even video-capable DSLRs. Most Sony camcorders utilize touchscreen LCDs and feature simple designs and consumer-friendly features.
Sony MTS/M2TS to PS3 Converter
I have the free version of TVersity as the media server software on my Windows 7 PC, and a PayStation 3 hooked to Samsung HDTV. I am happy to know that the videos could be streamed from PC over Ethernet to watching on a HDTV. However, when I would like watch the AVCHD .m2ts files, which are recorded by my new Sony HDR-CX110, I could not AVCHD video (.mts files) using Tversity, as the .m2ts files does not show up on Tversity.
After googling, I got to know that the supposed supported formats by TVersity include WMV, AVI, MOV, RMVB, FLAC, FLV, MKV,MPG, but the native support to AVCHD is not stable. I was recommended to convert AVCHD .m2ts files to WMV or MOV for streaming from TVersity to PS3 for HDTV. iCoolsoft MTS Converter is the recommended tool to make the Sony HDR-CX110 HD videos compatible with TVersity.
For those who have similar problem streaming AVCHD videos to Tversity like me, you can follow the form and guide below to convert AVCHD to Tversity formats.
Supported & Solutions
Samples
Camcorders Supported
Format
Solutions

Sony HDR-CX6, CX7, Sony HDR-CX12, Sony HDR-CX110
Sony HDR-SR1, SR5, SR7, SR8, SR5C, Sony HDR-SR10, SR11, SR12
Sony HDR-UX1, UX3, UX5, UX7
Sony HDR-TG1, TG3, Sony HDR-TG5V
Sony HDR-XR100, Sony HDR-XR520V, 500V, 200V

.mts

2010: bloggie Camera:MHS-PM5/V

.mp4/.mov
MTS/M2TS to HDTV/PS3 Solution
How to Convert MTS/M2TS to PS3
Step 1. Add AVCHD files to iCoolsoft AVCHD Converter.
Run iCoolsoft AVCHD Converter as the perfect AVCHD to PS3 converter, and click the "Add File" button to load the .mts files from Windows. You may also drag and drop the files from computer folder to the converter UI.
Step 2. Choose PS3 WMV HD supported format.
Since PS3 supports many video formats, we can choose flexible output with the AVCHD to PS3 converter. Just click the down-arrow "Profile" option and navigate the mouse cursor to PSP, PS3 >PS3 WMV Video(*.wmv) as output format. You may also choose .mpg, .avi, .ts output format.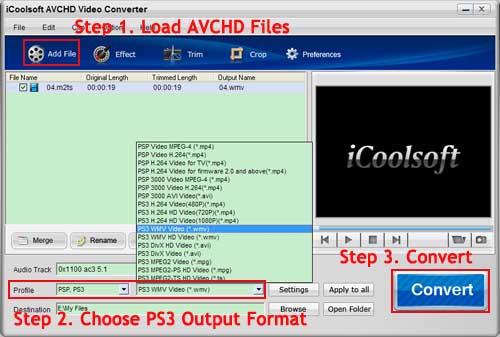 Step 3. Convert AVCHD MTS to PS3.
Click the "Convert" button under the preview window, and the conversion from AVCHD MTS to PS3 supported WMV, MPG, AVI or TS as you chose in step 2 will start immediately.
After the conversion, you can upload your stream camcorder videos to PlayStation 3 for watching and playing on HDTV.
Tips:
If you are using other AVCHD camcorders with stream AVCHD video (.m2ts) files and so on, you may also use the M2TS Video Converter.