Canon Delighting You Always,Make It Possible with Canon
Canon Camcorder Converter
Introduction

Canon has been a major force in the camcorder industry for quite some time. The company tends to put most of their focus on high-end consumer products and video-capable DSLRs, but they have yet to enter the ultracompact camcorder market. Canon is also known for offering multiple frame rates and external mic jacks on all of its camcorders.
Canon AVCHD MTS/M2TS Joiner
Are you still looking for an easy-to-use AVCHD joiner? Some converter would provide .mts or .m2ts output with decoding and encoding. However, the compression progress will take a long time. The fastest way to merge and join AVCHD files into a single AVCHD file would be the one that does not require recompression.
iCoolsoft MTS Converter provides the express way to join MTS/M2TS sequences with the same format and recording mode. No conversion is needed for the lossless output, and the speed is super fast.
The AVCHD sequences with the same video formats require the video are shot with the same codec, frame rate and size, aspect ratio, sample rate and channels. Actually, if you use the same recording mode on the camcorder like the 1080/60p, the videos will be recognized as a sequence.
Supported & Solutions
Samples
Camcorders Supported
Format
Solutions

Canon HR10, Canon HG10
Canon HF10, Canon HF100, Canon HF20, Canon HF200
Canon Vixia HF11, Canon Vixia HF S11, Canon VIXIA HF S10, Canon VIXIA HF S100, Canon VIXIA HF S200, Canon Vixia HG21, Canon Vixia HG20
Canon 5D DSLR, Canon 7D DSLR, Canon PowerShot SX200 IS

.mts
.mod
AVCHD MTS/M2TS Editing
How to Merge and Trim AVCHD MTS/M2TS Files
Step 1. Add MTS/M2TS files to the converter.
Run the iCoolsoft MTS/M2TS Converter on your computer and Click "Add File" button to load files.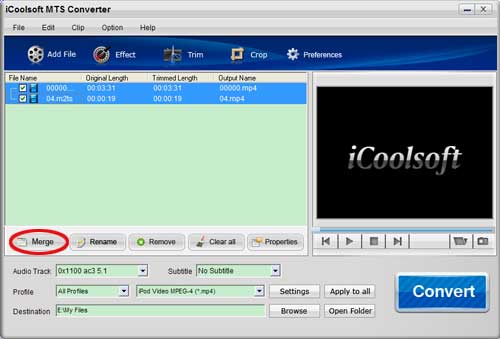 Step 2. Trim Files
After the videos is importing, you can click the "trim' button on the top toolbar to open the edit window, here you have three ways to trim your video, as follow: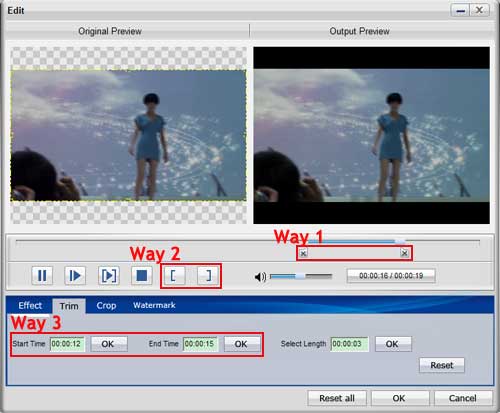 Step 3. Merge MTS with Lossless output.
Use one of the three ways above to define the part you want and then click the "OK" button to save the changes and back to the main interface. Check all the files in ther file list you want to merge in the file list then click the "Merge" button.
Step 4. Click the "Convert" button. Wait for a while, and you will get the videos clips joined into one file for smooth playback with no quality loss.