How to Convert MOV to AVI Format?
Troubles you may have encountered to enjoy and share MOV videos with friends include:
1. You are a Mac user and have shot a lot of videos using Cannon camcorder whose video files are saved as .mov format, and you want to upload these videos to Internet such as YouTube to share with friends, but you can't figure out how to make it.
2. You may also find that you would not be able to open your MOV camcorder videos in Windows movie maker.
That's true, the MOV format is not accepted by a lot of players, and this kind of format cannot be uploaded to Internet which prevents video sharing. The easiest solution is to convert MOV format to AVI format or other common formats. So a professional iCoolsoft MOV Converter is needed.
Guide:How to Convert MOV to AVI?
Step 1: Free download iCoolsoft MOV Converter, follow the instruction to install it and then launch it.
Step 2: Click "Add Video" button to input the MOV video you want to convert. You can input several MOV videos at a time.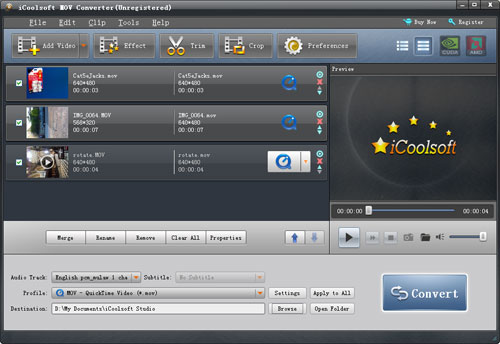 Step 3: Select AVI as the output format from the drop-down list of "Profile".
Step 4: Click button "Browse" to set the destination for saving the converted files.
Step 5: Click button "Convert" to start the conversion.
The above five steps are all you need to do to convert a MOV video into AVI format video. If you want to adjust the effect of the original MOV video, or you just need a part of the original MOV video, you can use the edit functions.
> Effect
You can click button "Effect" to adjust Brightness, Contrast and Saturation. You can also check "Deinterlacing" checkbox to avoid mosaic and improve the quality of the video.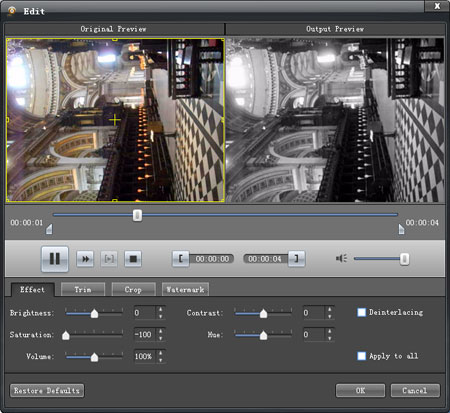 > Trim
If you only want to convert a segment of the entire video or do not want to convert some certain segment of the video, you can use the trim function.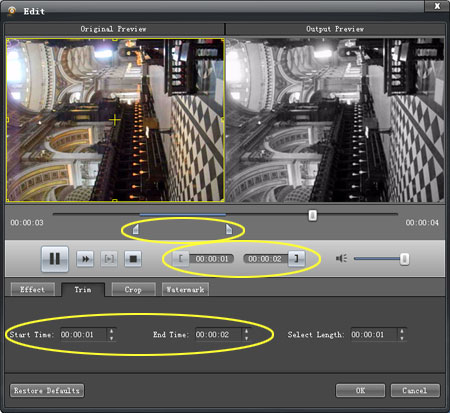 > Crop
To get rid of the black border or to zoom in some part of the scene, you can click button "Crop" and then drag the yellow frame or adjust the values in the boxes. You can also select "Full Screen", "Keep Original", "16:9" or "4:3" from the drop-down list of "Zoom Mode".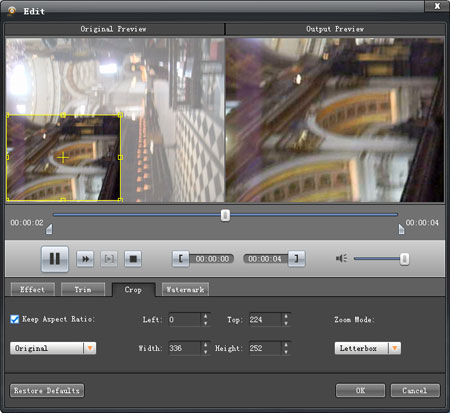 > Watermark
You can add text or picture watermark to the video.