Why to convert MP4 to MPEG?
What is MP4?
MP4 (MPEG-4 Part 14), formally ISO/IEC 14496-14:2003, is a multimedia container format standard specified as a part of MPEG-4. It is most commonly used to store digital video and digital audio streams, especially those defined by MPEG, but can also be used to store other data such as subtitles and still images.
What is MPEG?
The Moving Picture Experts Group (MPEG) is a working group of experts that was formed by ISO and IEC to set standards for audio and video compression and transmission. The main compression formats and ancillary standards standardized by MPEG include:
MPEG-1: MPEG-1 is a standard for lossy compression of video and audio. It is designed to compress VHS-quality raw digital video and CD audio down to 1.5 Mbit/s (26:1 and 6:1 compression ratios respectively) without excessive quality loss, making video CDs, digital cable/satellite TV and digital audio broadcasting (DAB) possible. It includes the popular MPEG-1 Audio Layer III (MP3) audio compression format.
MPEG-2: Generic coding of moving pictures and associated audio information (ISO/IEC 13818). Transport, video and audio standards for broadcast-quality television. MPEG-2 standard supports interlacing and high definition. MPEG-2 has been chosen as the compression scheme for over-the-air digital television ATSC, DVB and ISDB, digital satellite TV services like Dish Network, digital cable television signals, SVCD and DVD Video. It is also used on Blu-ray Discs.
MPEG-4: Coding of audio-visual objects, (ISO/IEC 14496) MPEG-4 uses further coding tools with additional complexity to achieve higher compression factors than MPEG-2. MPEG-4 supports Intellectual Property Management and Protection (IPMP), which provides the facility to use proprietary technologies to manage and protect content like digital rights management. It also supports MPEG-J, a fully programmatic solution for creation of custom interactive multimedia applications (Java application environment with a Java API) and many other features. Uses of MPEG-4 include compression of AV data for web (streaming media) and CD distribution, voice (telephone, videophone) and broadcast television applications. Several new higher-efficiency video standards (newer than MPEG-2 Video) are included, notably:

MPEG-4 Part 2 is a compression codec for visual data (video, still textures, synthetic images, etc.). One of the many "profiles" in Part 2 is the Advanced Simple Profile (ASP).
MPEG-4 AVC (or MPEG-4 Part 10 or H.264). MPEG-4 AVC may be used on HD DVD and Blu-ray Discs, along with VC-1 and MPEG-2.
So we can see that MP4 format is a part of MPEG standard formats while at the same time it is different from the other parts of MPEG standard formats. So sometimes we have to convert MP4 files into MPEG format. To convert MP4 to MPEG, we need the help of MP4 to MPEG Video Converter. Total Video Converter is a good choice because it could support various inputting and outputting formats as well as a lot of powerful editing functions.

How to convert MP4 to MPEG?
Install the Total Video Converter in your computer and launch it.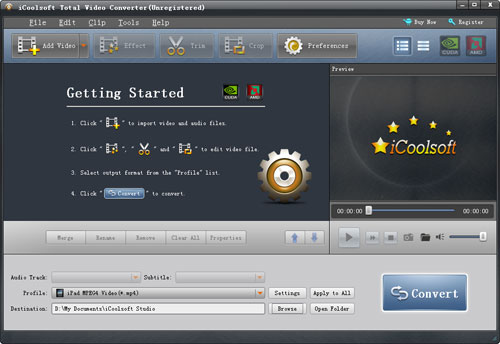 Step 1: Click "Add Video" button to add the MP4 videos you would like to convert.
Step 2: Select the MPEG format you need from the drop-down list of "Profile".
Step 3: Specify the destination.
Step 4: Click "Convert" button to start converting MP4 files to MPEG format.
Tips:
1. You can set the output parameters by clicking button "Settings".
2. The "Camera" button can help you to take snapshot of the scenes you like while previewing.
3. Button "Effect", "Trim", "Crop", and "Merge" can help you to adjust video effect, trim video clips, change Aspect Ratio, add text or picture watermark, and merge several files into one whole file.
4. The software supports batch conversion so you can add and convert several files at a time.