How to Convert MP4 to AVI Format?
MP4 is the official multimedia container for MPEG-4 video and audio. While MP4 works fine as a container format, it does have some issues that need to be resolved. Its primary problem is in audio support. Like the MPEG-2 container formats (Program Stream and Transport Stream) MP4 allows both native audio streams (encoded to a standard defined as part of MPEG-4) and private streams (those not part of the MPEG-4 specs). Unlike those formats, however, there's very little support among software and hardware vendors reading private streams. As a result, if your MP4 file contains audio in a format other than AAC there's a good chance your player won't be able to read it.
Therefore sometimes we may have to convert MP4 format into other video formats so that we can enjoy the video through any player. At the following, we will discusss how to convert MP4 videos into AVI format with a easy-to-use tool - MP4 to AVI Converter. It is specially designed to convert MP4 to AVI and any other video format. It still has many practical functions. You can see them from the following guide.
Main steps:
Step 1: Free download MP4 to AVI Converter, follow the instruction to install it and then launch it.
Step 2: Click "Add Video" button to import the MP4 video you want to convert. You can input several videos at a time.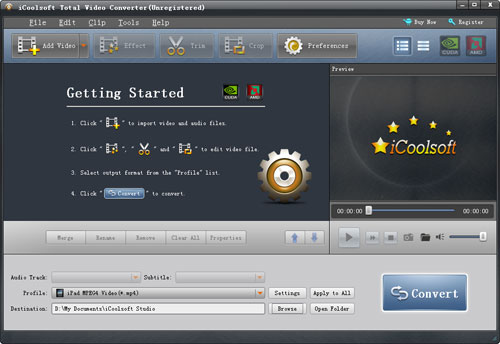 Step 3: Select AVI as the output format from the drop-down list of "Profile".
Step 4: Click button "Browse" to set the destination for saving the converted files.
Step 5: Click button "Convert" to start the conversion from MP4 to AVI.
Edit MP4 Video Files: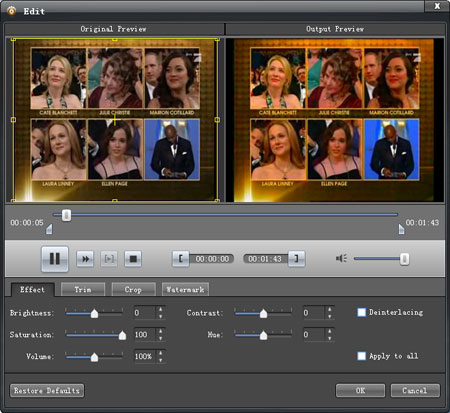 > Effect
You can click button "Effect" to adjust Brightness, Contrast and Saturation. You can also check "Deinterlacing" checkbox to avoid mosaic and improve the quality of the video.
> Trim
If you only want to convert a segment of the entire video or do not want to convert some certain segment of the video, you can use the trim function.
> Crop
To get rid of the black border or to zoom in some part of the scene, you can click button "Crop" and then drag the yellow frame or adjust the values in the boxes. You can also select "Full Screen", "Keep Original", "16:9" or "4:3" from the drop-down list of "Zoom Mode".
> Watermark
You can add text or picture watermark to the video.