How to convert mp4 to Xvid on Mac?

How much do you know about Xvid? While XviD is the name of a popular new video codec, and its quality and efficiency has made it one of the most popular video codecs online.Xvid(old called XviD) is an open source mpeg-4 video codec which was worten based on OpenDivX.Xvid support for multiple coding mode like Quantization mode and range control,Motion Search and Curve and so on numerous coding technology.It is very useful to users.
When you have recorded some videos in MP4 with your camera, or downloaded a few MP4 video files, your videos are probably compressed with MPEG-4 or H.264 video encoding, because the two codecs are often used to compress MP4 videos.Here is a converter which can help you convert MP4 to XviD on Mac.Let's see how excellent the mp4 to xvid converter on Mac is.
First of all, download the professional iCoolsoft MP4 Converter for Mac to help you, which would make the MP4 to XviD Mac conversion easier and simpler. The one used here is outstanding for its excellent quality and super fast conversion speed. In addition, it can finish the Mac job without losing video quality after 3 steps: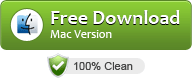 At first,run the converter and comes the interface as below.Then add MP4 files to the Mac program by dragging your videos to the left of the interface or head to "File" menu,and tap "Add Video Files" would both locate the MP4 files into the program.And you can convert more than two videos at the same time.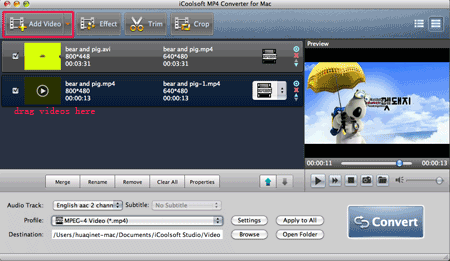 Second,set XviD AVI as output format.XviD is a codec instead of a format and it's often used to encode AVI files. So for this part, you can select XviD AVI as your output format(AVI has the vast support of hard devices and is wildly used in saving media files).You can also set other format to be your output file format. The Mac software supports a widerange of formats like AVI, MKV, MOV, M4V etc.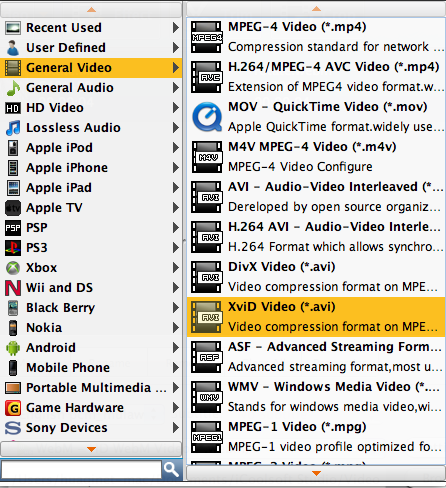 Moreover, the Mac Video Converter also has some edit functions like crop, trim, split and add effects to your videos. To learn more about it, go to the Guide of Video Converterfor Mac (Snow Leopard included).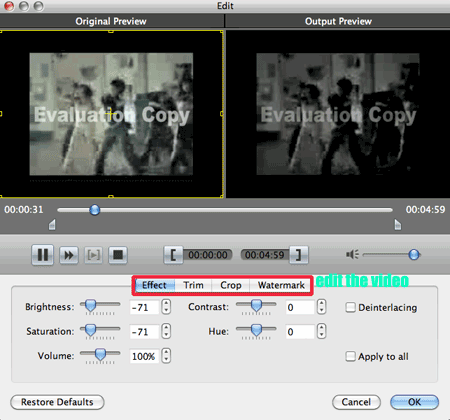 Third,start MP4 to XviD conversion on Mac OS X
Choose the button of

and this splendid Mac Video Converter will automatically do the rest for you!You just need choose the right disc to save your converted video or you can keep the video as default.

Windows version :iCoolsoft MP4 Converter.