How to Convert Videos for Sony Media Players?
Sony Media Players
Sony takes recording seriously. After all, It manufactures more than the recording media: they build the entire recording system. Media has always been an indispensible component of Sony's industry-changing formats. And recording media plays a fundamental role in the reliability of their recording systems. In addition, Sony Professional Media is backed by a team of sales, marketing and technical professionals, all supporting from acquisition to archive.
Sony Pro Media does more than capture and play outstanding images, it represents the ultimate performance partner for Sony professional recorders. Sony media is designed for maximum reliability. Meeting this objective requires high output, low noise, and the physical strength to withstand the rigors of the most adverse shooting environments. The customers take advantage of this every day they use Sony Pro Media
How to Convert Videos for Sony Media Players?
Free download and install iCoolsoft Sony Media Video Converter to your PC.
Step 1: Click button "Add File" to add the video files you want to convert.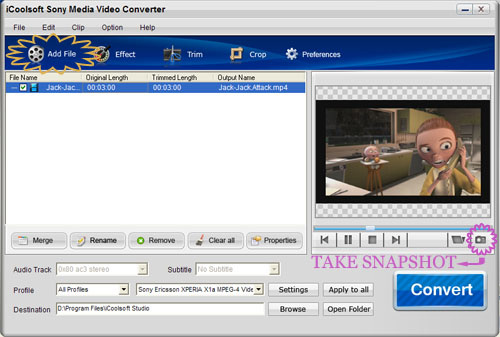 Tip:
You can preview the DVD file in the preview pane and take snapshot of the scenes you like the most. Click button

and the picture will be saved as default format in default folder. Click button

then you can open the folder to find the pictures.
Step 2: You can select the Audio Track and Subtitle, specify the output format, and set the output destination at the bottom of the main interface.

Tip:
If you need, you can click button "Settings" to set the output parameters.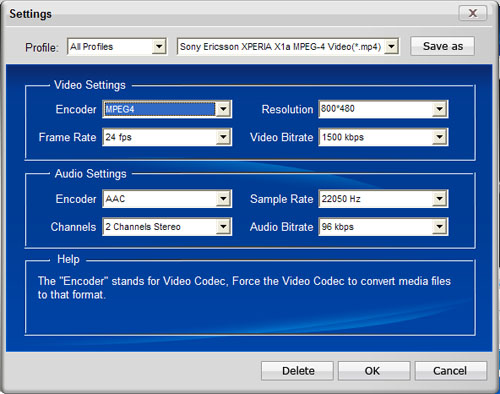 Step 3: Select a video and use "Effect", "Trim", or "Crop" button on the tool bar to edit videos as you like.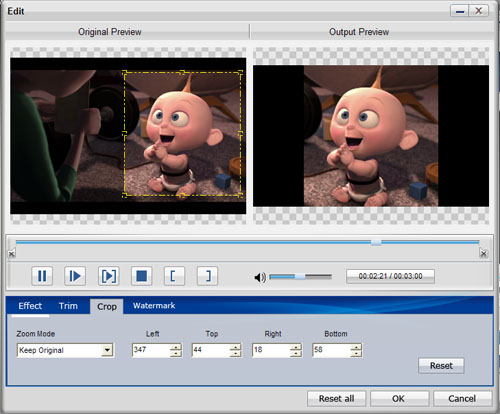 If you want to merge several clips into one file, you can select the files you would like to merge and thenclick the "Merge" button. The merged file will be listed in the file list.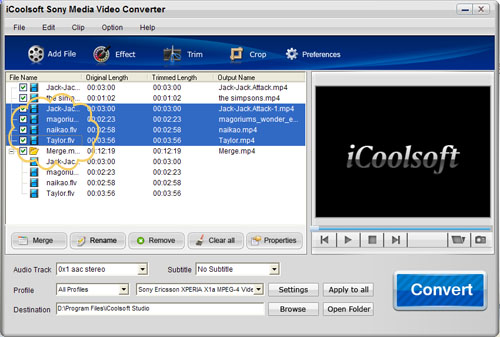 Step 4: Click button "Convert" to start the conversion. It will show you the converting progress window and you can check "Shut down computer when conversion completed" or "Open output folder when conversion completed" there.