How to Copy DVD Movies?
iCoolsoft DVD Copy is a powerful DVD copier and DVD duplicate tool, that can help you copy DVD and clone DVD in several ways, such as copy DVD to a new disc (DVD-5 to DVD-5, DVD-9 to DVD-9), backup DVD to DVD folder or ISO image file on local disc. This DVD Copy also enables you to burn DVD folder and ISO image to DVD disc.
First of all, free download iCoolsoft DVD Copy and install it in your computer.
Step 1: Select the copy mode
Click "Full Disc" button or "Main Movie" button on the main interface to select the copy mode.
Tips:
"Full Disc" Mode: Copy the entire DVD discs, DVD images (.iso) or DVD folders, including all the titles.
"Main Movie" Mode: Copy the longest title contained in DVD discs, DVD images (.iso) or DVD folders to one DVD disc, getting rid of the features and the movie trailers.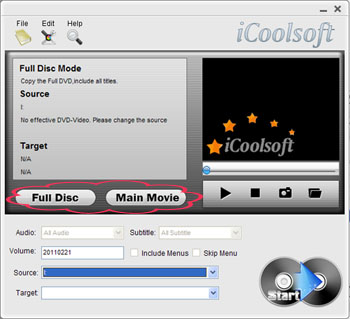 Step 2: Select the source
Choose the DVD disc, DVD folder or Image File you want to convert from the drop-down list of "Source".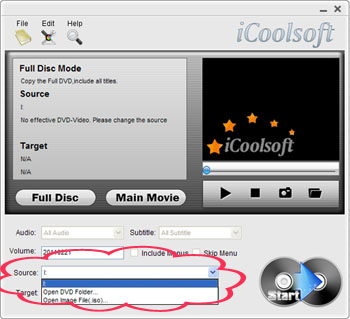 Step 3: Select the target
Select target from the "Target" drop-down list.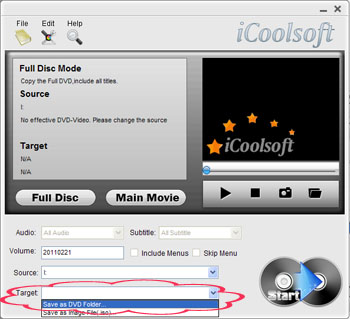 Step 4: Start the copy
Start to copy DVD by clicking button "Start".
Tips:
If you select a DVD disc as the target, the "Select target disc type" window will pop up to prompt you to select type and size of the target disc after you clicked the "Start" button.
iCoolsoft DVD Copy supports to burn three types of DVD discs: D5(4.7GB) Disc, D9(8.5GB) Disc and customized disc:
If your disc capacity is 4.7G, please select the disc type "4.5GB";
If your disc capacity is 8.5G, please select "8.5GB";
If your disc is neither of them above, please select the type as "Custom" and enter the disc capacity yourself.
Afterwards, click "OK" to close window. The program will read files from the source.
After reading, a window will appear and require you to put in a proper DVD disc. Take the DVD disc out and insert an appropriate DVD disc which should be consistent with your selection (disc type) earlier, and then click "Retry" button to copy the source to the target.
Step 5: Copy finished
After the copy is done, a window will appear to inform you that the copy is finished. Click "Finish" to close the window and end the copy.
Tips:
If you want to continue the copy from the same source, please click "Burn Next" button. Following the instruction of the software, please take out the disc that has been burned, and insert a blank disc to start a new copy.